Eagle Car, Truck, Van, SUV Trade Exchange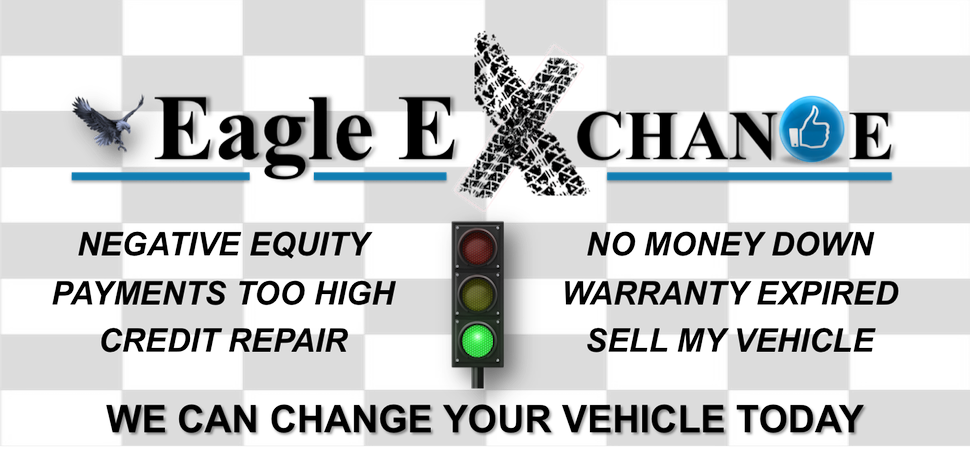 Eagle Car, Truck, Van, SUV Trade Exchange
Eagle Vehicle Trade Exchange at John Eagle Honda is for the people that own, financing, or leasing a car, truck, van, or SUV that have circumstances initiating the need to change or sell the vehicle they currently have.  If you have ever asked any of the following questions then Eagle Exchange may be for you:
How can I trade my car, truck, van, or SUV with negative equity?
How can I lower my car, truck, van, or SUV payment?
Can I finance a car, truck, van, or SUV with bad credit?
Can I get a car, truck, van, or SUV loan with no money down?
What do I do if my car, truck, van, or SUV warranty has expired?
I want to sell my car, truck, van, or SUV, who will pay cash?
Eligible consumers are entitled to receive additional trade-in value and special incentives toward the purchase or lease of a newer vehicle. Honda is offering low finance rates and lease payments, a new Honda may cost you less than you think.
Come in today and browse our huge inventory of new Honda Vehicles to find your perfect fit. You'll have the security of a brand new warranty and maybe even lower payments after your exchange!
Negative Equity Solutions
Negative equity is when you owe more on your car, truck, van, or SUV to the lender, financial institution, or lien holder, whether financing or leasing, than what the vehicle is actually valued at.  Cars, trucks, vans, and SUV vehicles are depreciating assets, therefor when payments are made in installment agreements that are many different in amount vs. asset.  Owners can excel orate the depreciation of the vehicle by putting too many miles on a vehicle, not repairing physical damage to a vehicle, or auto market conditions influence the value of the car, truck, van, or SUV.  We have finance and lease programs that in most cases can include eliminating the negative equity when our recommended formula or path is completed.  Please fill out the form to the right to contact someone to get rid of my negative equity.
Car, Truck, Van, or SUV Payments are too High
Here are the benefits of the program:
Receive a fair market value for your vehicle

Low monthly payments

Competitive financing terms

Longer and more comprehensive warranties

Lower fuel costs and increased miles per gallon

Reduce your cost of driving

Reduce maintenance and repair costs

Increased safety and security technology

Brand new comfort and entertainment features
The Auto Finance Experts at John Eagle Honda can assist you with the new Honda of your choice today. Use our short, easy to complete Online Auto Credit Application to get Pre-Approved before you arrive. Don't worry about your credit! Even if you have Bad Credit, or a First Time Buyer with No Credit, John Eagle Honda has a plan for you. Get started now so you can drive a new Honda tonight on approved credit.
To take advantage of these benefits, please fill out the form to learn more and to speak with one of our Client Services Specialists about how to qualify for the program. Or call (855) 562-7994 to speak to our specialist now!
Car Truck Van SUV Trade Exchange
* Indicates a required field